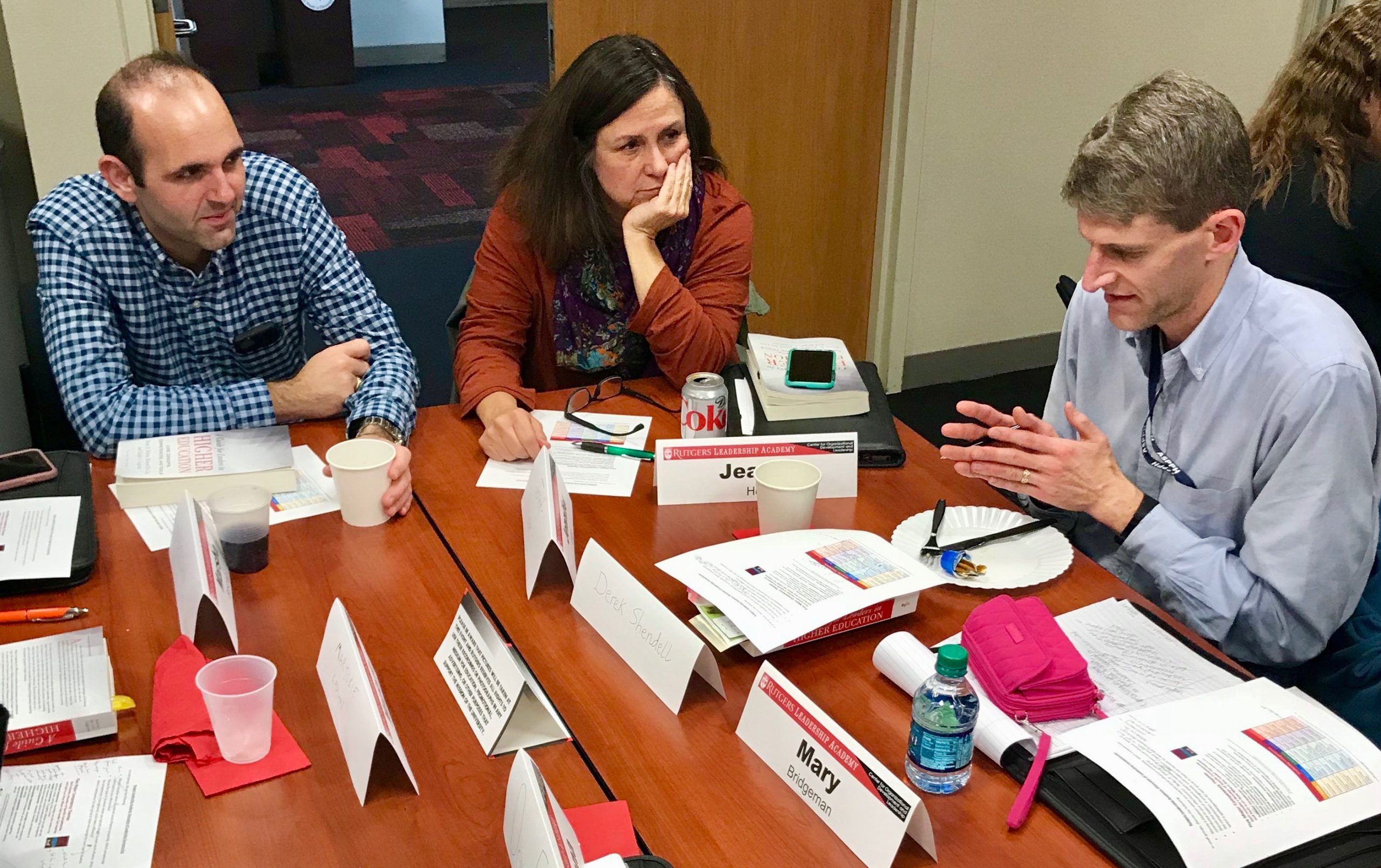 Rutgers Leadership Academy
About
The Rutgers Leadership Academy (RLA) is a one-year program (formerly a two-year program) for mid-career faculty and staff who aspire to broadened leadership roles within their units, the university, and/or higher education, more generally. 
The RLA focuses on the development of cross-cutting leadership concepts, competencies, and tools to enhance the professional capabilities for those in academic, professional, and administrative leadership roles. The program also addresses the unique situation- and position-specific organizational and leadership challenges that these leaders may encounter. 
As a result of participating in the program, RLA Fellows will have an opportunity to: 
Gain familiarity with the contemporary challenges facing academic and administrative leaders across higher education.

 

Increase understanding of fundamental perspectives and concepts of leadership as they apply in higher education along with important dimensions of higher education administration, including organizational structure and mission, governance, finance and budgeting, legal and regulatory issues, diversity, and ethics.

 

Enhance personal and professional leadership competencies.

 

Advance Rutgers and individual leadership capabilities by leading a field-based project from conception through completion.

 

The nomination details for the 2020-2021 cohort will be made available in February 2020. See the links below for additional details of the RLA program.

 
Program Topics
Introduction to the Rutgers Leadership Academy

 

What is Leadership: Core Theories, Concepts, and Principles

 

Leadership Self-Assessment: Strengths and Leadership Competencies

 

Principles and Pragmatics of Leadership

 

Leadership-Communication Connections

Critical Incidents in Leadership and Leadership Style

 

Project Management Considerations

 

Strategic Planning, Organizational Assessment, and Continuous Improvement in Higher Education

 

Higher Education Stakeholders: Demonstrating Formal and Informal Leadership in Higher Education

 

Crisis Leadership in Higher Education

 

Enrollment Management: Key Considerations

 

Understanding and Leading Change in Higher Education

 

Politics, Policies & University-Government Relations

 

Finance and Budgeting: University, School, and Department Considerations

 

Higher Education Law: Academic Freedom and Free Speech

 

Succession Planning and Leadership Insights from an Executive Search Firm
Rutgers Leadership Program featured in Chronicle of Higher Education