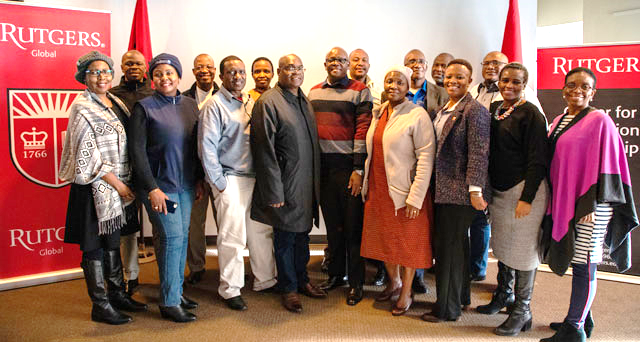 Rutgers Global Partnerships
Botswana Leadership Development Partnership
In December 2019, a second delegation of 16 senior government officials from Botswana participated in a 7-day residential program designed to enhance leadership competencies and capabilities. In partnership with Rutgers Global, the Rutgers Center for Organizational Leadership continues to lead the design, coordination, and facilitation of the program, which is a central component of the collaborative relationship being developed between The Government of the Republic of Botswana and Rutgers, The State University of New Jersey.
The relationship between Botswana and Rutgers was initiated in February 2019. Named the Mahube ("Dawn") Partnership for Transformation, this collaboration represents a unique effort between a nation and a university to address leadership, capacity-building, and knowledge transfer, as the Republic of Botswana transforms from its dependence on natural resources into a more knowledge-based economy. The partnership was led by Botswana President Mokgweetsi Eric Masisi and Rutgers President Robert Barchi.
A Summit held in May 2019 and hosted by Rutgers served as the first phase in advancing the leadership training and development goals of the partnership.
A detailed summary of both residency programs can be found in the Botswana I and II Final Report.
Additionally, more information regarding the partnership and the customized Leadership in the Public Sector framework developed for the program can be found in this Public Administration Times article.
Click here to see additional photos from the event.
Universidad Nacional de Asuncion (UNA) Leadership in Higher Education Institute
In support of the partnership among Rutgers University-Camden, U.S. Agency for International Development, Universidad Nacional de Asuncion (UNA), and Higher Education Center for Ethics, Equity, and Transparency, the Center for Organizational Leadership at Rutgers University was invited to develop and deliver a customized Leadership in Higher Education Institute. With the support of Rutgers Global, this leadership development program serves as a pilot initiative for other global partnerships. The Institute consisted of seven virtual modules for approximately 25 members of the UNA leadership team. Aligned with the broader themes of transparency, ethics, and equity that guide UNA's transformation efforts, this series introduced participants to the Excellence in Higher Education (EHE) framework (Ruben, 2016). The Excellence in Higher Education framework provides a guide for transformative leadership. Inspired by the Malcolm Baldrige Performance Excellence Program, this framework focuses on seven dimensions of excellence that are recognized as critical for organizational design, assessment, planning, and implementation. Workshop participants explored the connections between each of the EHE categories and their ongoing transformation efforts at UNA.
Learn more about the Excellence in Higher Education (EHE) framework.
Learn more about the Rutgers and Universidad Nacional de Asuncion collaboration.
Rutgers Global Mandela Washington Fellowship
The Center for Organizational Leadership supports the Rutgers Global Mandela Washington Fellowship.