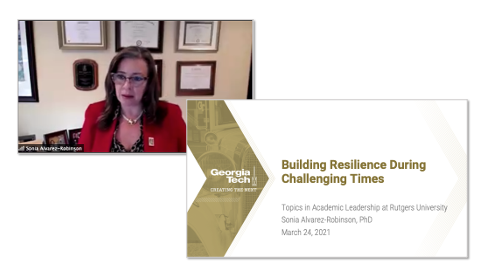 On Wednesday, March 24, 2021, Dr. Sonia Alvarez-Robinson, Executive Director for Strategic Consulting at Georgia Tech, presented the third seminar for the Spring 2021 Topics in Academic Leadership virtual series entitled "Building Resilience During Challenging Times."
Dr. Alvarez-Robinson led a thoughtful presentation discussing the importance of individual and organizational resilience and specific strategies for building resilience. Drawing on personal and professional examples, she highlighted specific approaches academic leaders can take to recognize elements of adversity, uncertainty, and change, and how individuals might grow from these experiences and help others in their organization do the same. Dr. Alvarez-Robinson concluded the session with a brief mindful meditation that enabled leaders to engage in reflection regarding personal resilience.
The recorded video and supplemental materials can be found on the Academic Leadership Hub, a Canvas course site made available to our community members. If you are unable to access the Hub, please contact us at center@ol.rutgers.edu.
"Building Resilience During Challenging Times" served as the third seminar for the Spring 2021 Topics in Academic Leadership virtual series. To view and register for final seminar in this event series, please visit: https://ol.rutgers.edu/programs/special-topics-in-academic-leadership/