Special Topics in Academic Leadership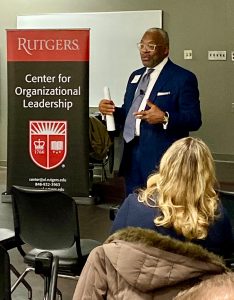 Special Topics in Academic Leadership Seminars, led by higher education leadership educators and practitioners, provide a forum for discussing relevant issues and challenges facing academic leaders and sharing effective practices across disciplines.
Participants and alumni of our academic leadership programs, along with current deans, associate deans, department chairs, and others with an interest in the topic are encouraged to attend these virtual sessions.
For more information regarding this program or if you might be interested in leading a future seminar, contact Ralph Gigliotti.
To be added to our email list for notifications about future seminars, please click here.
Past sessions included the following:
Dr. Sonia Alvarez-Robinson, Executive Director, Office of Strategic Consulting, Georgia Tech University
Building Resilience During Challenging Times
Dr. Brian Ballentine, Senior Vice President for Strategy
Pressures Facing Higher Education and Implications for Setting Strategy
Dr. Brent Ruben, Senior University Fellow, Center for Organizational Leadership and Advisor for Strategy and Planning, Office of the Executive Vice President for Academic Affairs
Excellence in Higher Education-Renewal: A Framework for Organizational Assessment
Dr. Ralph Gigliotti, Assistant Vice President, Office of University Strategy and Director, Center for Organizational Leadership
Impact of COVID-19 on Academic Leaders: A Summary of Research Findings and Strategies for Renewal and Reinvention
Dr. Cary Cherniss, Professor Emeritus of Applied Psychology, Rutgers University and Co-chair, Consortium for Research on Emotional Intelligence in Organizations (CREIO)
Leading with Emotional Intelligence
Dr. Jeffrey Buller, Director of Leadership and Professional Development, Florida Atlantic University and Senior Partner, ATLAS: Academic Training, Leadership, & Assessment Services
Positive Academic Leadership
Dr. Crystal Miller, Systemwide Director for Leadership Development, California State University
Delivering Conscious Feedback with COIN: The Neuroscience of How to Communicate with Impact
Dr. Maurice Hall, Dean, School of the Arts and Communication, The College of New Jersey
Academic Leadership as Facilitation: Using Dialogic Techniques to Build Trust, Understanding, and Mutual Respect
Dr. Terry Curry, Associate Provost and Associate Vice President for Academic Human Resources, Michigan State University
Helping Faculty and Units Excel Through Effective Performance Planning, Feedback, and Development: Improving the Process and its Outcomes
Dr. Richard Dool, Ghada Endick, Robyn Ginese, and Dr. Christine Goldthwaite
Designing a Leadership Living Learning Community and Reflections on Student Leadership
Dr. Gail Fairhurst, Distinguished Professor of Communication at the University of Cincinnati
If I'm talking, am I communicating?": The Challenges of Framing in Higher Education Leadership
Dr. Walt Gmelch, Professor of Leadership Studies at the University of San Francisco
Leadership Tradeoffs: Managing Time, Stress, and Transitions
Dr. Phoebe Haddon, Chancellor of Rutgers-Camden
Critical Moments in Higher Education Leadership
Doug Lederman, Editor and Co-Founder of Inside Higher Ed
Reflections on the Landscape of Higher Education
Dr. Laurie Lewis, Professor of Communication
Organizational Change: Engaging Colleagues in Decision Making
Dr. Rich Novak, Vice President for Continuing Studies and Distance Learning
Building an Effective Administrative Team
Beth Tracy, Senior Director for Faculty Development
Coaching Skills for Academic Mentors
Dr. Karen Stubaus, Vice President for Academic Affairs and Administration
Changing Profile of The Academic Workforce: Implications for Leaders in Higher Education
Dr. Jerome Williams, Distinguished Professor and Prudential Chair in Business, and former Executive Vice Chancellor and Provost of Rutgers-Newark, and Research Director of The Center of Urban Entrepreneurship & Economic Development
Leadership Ethics in Higher Education