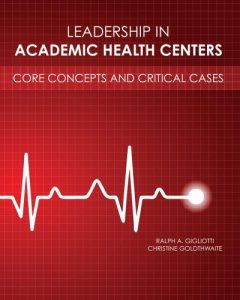 The Rutgers Center for Organizational Leadership is pleased to announce the publication of a new book, Leadership in Academic Health Centers: Core Concepts and Critical Cases. Co-authored by Dr. Ralph Gigliotti and Dr. Christine Goldthwaite, in collaboration with guest authors from both the Rutgers Center for Organizational Leadership and Rutgers Biomedical and Health Sciences, this book highlights key dimensions of effective leadership in an academic health context. Drawing upon the insights and experiences of academic health leaders, the cases and concepts presented throughout the book allow the reader to explore connections to the relevant scholarly and professional literature and apply the content to their leadership experiences in a highly complex environment.
This book will serve as a supplemental learning resource for participants in the Academic Leadership Program at Rutgers Biomedical Health Sciences (RBHS), and will hopefully prove to be a valuable resource for aspiring and current leaders across the academic health landscape.
As we have learned from our research, experiences, conversations, and observations, effective leadership in an academic health environment—as a relational and social endeavor—calls for a commitment to meaningful engagement; dialogic communication; purposeful and goal-centered approaches to assessment, planning, change, and crisis; and the cultivation of an environment and culture where others can do their best work.
About the Rutgers Center for Organizational Leadership
The Rutgers Center for Organizational Leadership (OL) is a national leader and resource for Rutgers University and the higher education community. With the support of the Executive Vice President for Academic Affairs and Senior Vice President for University Strategy, the Center provides a portfolio of programs and services for current and aspiring leaders with academic responsibilities seeking to develop and enhance their leadership, communication, and organizational competencies. As a hub for academic leadership development, consultation, and research, our signature offerings aim to improve individual and collective leadership capacity, support university strategy initiatives, and cultivate a culture of leadership development across the institution.