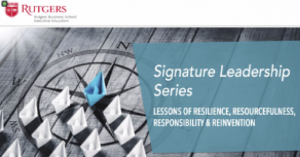 The Rutgers Business School hosted a webinar on Thursday, January 14, as part of its Signature Leadership Series. Ralph Gigliotti, Ph.D., Director for the Center of Organizational Leadership, served as moderator for the event entitled, "Applying Industry Experience to Academic Leadership," where he engaged in conversation with Chancellor Christopher Molloy, Ph.D.
Chancellor Molloy provided a personal look at his leadership journey, beginning as an undergraduate pharmacy student at Rutgers, and eventually moving into senior leadership roles at Johnson & Johnson, 3-Dimensional Pharmaceuticals Inc., and Bristol-Myers Squibb Pharmaceutical Research Institute, before serving in senior academic roles at Rutgers University. In comparing his industry experience to academia, Dr. Molloy observed the importance of team collaboration, agility, innovation, and swift decision-making in industry. He also reflected on significant leadership moments during his time at Rutgers, highlighting his role with the integration of Rutgers and the University of Medicine and Dentistry of New Jersey and recent experience in navigating the impact of the pandemic.
The event concluded with a Q&A session where Dr. Molloy encouraged faculty, staff, students, and alumni to continue to develop their leadership competencies by soliciting meaningful feedback and identifying a mentor. He also encouraged audience members to remain engaged with the university and to help show others all that Rutgers has to offer.