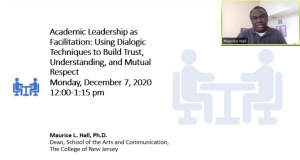 On Monday, December 7, 2020, the Center for Organizational Leadership hosted the last seminar of the Fall 2020 Topics in Academic Leadership series. During this event, 80 faculty, staff, and administrators from across Rutgers University joined Dr. Maurice Hall, Dean of the School of the Arts and Communication at The College of New Jersey, for his presentation entitled, "Academic Leadership as Facilitation: Using Dialogic Techniques to Build Trust, Understanding, and Mutual Respect."
Dr. Hall shared his expertise as a leadership communication scholar and his academic leadership experiences to discuss the importance of engaging in dialogue as a way to build relationships, create collective meaning, and engage team members in meaningful ways. While leadership is often presented as a linear process that is focused on goal setting, decision-making, and resource stewardship, the dynamics of academic leadership do not always follow this model. Instead, Dr. Hall discussed the importance of sensemaking (Weick, 1995) and how effective leaders serve as "chief sense-makers." By engaging in dialogue with individuals to learn how each one is making sense of a situation or issue, a leader is better able to reduce multiple meanings and pursue a shared view. Dr. Hall provided several examples of how storytelling can be used to frame the interpretation of events, situations, or issues in ways that connect to the values of the group.
If you are interested in learning more, the recorded video and materials can be found on the Academic Leadership Hub–a Canvas course site made available to our community members. If you are unable to access the Hub, please contact us at center@ol.rutgers.edu.
The Center for Organizational Leadership is currently planning another seminar series for Spring 2021. We encourage you to visit our website, connect with us via LinkedIn, and keep an eye out for email announcements regarding upcoming events.