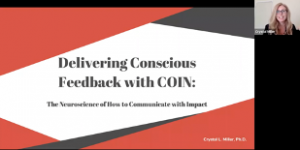 On Friday, November 13, 2020, more than 75 faculty and staff attended the third seminar in the Topics in Academic Leadership Series. The session focused on "Delivering Conscious Feedback with COIN: The Neuroscience of How to Communicate with Impact," and was presented by Dr. Crystal Miller, a faculty member with BiasSync, the nation's first tech-based implicit bias assessment and learning firm, and former Systemwide Director for Leadership Development at California State University.
As an organizational development expert with a background in neuroscience and mindfulness, Dr. Miller discussed the ways in which our brains perceive feedback as a potential threat. As Dr. Miller highlighted, giving and receiving feedback can be anxiety-producing and most people avoid it, even though it is important for professional growth and engagement, as well as organizational effectiveness. Dr. Miller also discussed the importance of providing informal feedback with greater frequency so that it becomes integrated into the department's culture.
During the presentation, participants were able to reflect on their own feedback-giving style through the tool included in Anna Carroll's The Feedback Imperative. Participants had the opportunity to craft their own COIN responses using the suggested strategies as practice for communicating with greater impact in higher education. The tools, tips, and practice made this a content-rich, interactive session that can be immediately applied to practice.
The recorded video and materials can be found on the Academic Leadership Hub, a Canvas course site made available to our community members. If you are unable to access the Hub, please contact us at center@ol.rutgers.edu.
To view and register for the upcoming seminar in this event series, please visit: https://ol.rutgers.edu/2020/08/24/announcing-fall-2020-virtual-topics-in-academic-leadership-seminars/.