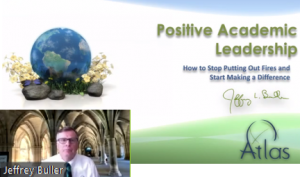 On Monday, October 19, 2020, the Center for Organizational Leadership hosted the second seminar in the Topics Academic Leadership Series, entitled, "Positive Academic Leadership." The guest speaker for this event was academic leadership scholar, Dr. Jeffrey Buller, who serves as Senior Partner with ATLAS: Academic Training, Leadership, & Assessment Services.
Author of 22 books on the topic of academic leadership, including Positive Academic Leadership: How to Stop Putting out Fires and Start Making a Difference, Dr. Buller led a dynamic presentation to more than 50 attendees from across Rutgers University. Buller highlighted three ways to encourage and demonstrate positive approach academic leadership: change your perspective, change your language, and change your style. Each of these were expanded on with video clips, case studies, and strategies that can be incorporated into one's leadership practice.
Borrowing from the literature on positive psychology, Buller suggested that leaders who are not naturally optimistic ask themselves, "What would an optimist do in this situation?" as a way to actively reframe their perspectives. By consciously choosing to move away from chronic worry, leaders can then devote their energy to the best possible solutions and take action that will allow them, their teams, and their organizations to be more successful. When leaders follow this up with a change in their language, they can influence the perspectives of others. Contemporary challenges contribute to negativity in the workplace, and by modifying their communication behaviors – word choice, intonation, and even punctuation in virtual communication – leaders can cultivate a more positive culture.
For more information about Buller's book, Positive Academic Leadership, click here. The recorded video and materials can be found on the Academic Leadership Hub, a Canvas course site made available to our community members. If you are unable to access the Hub, please contact us at center@ol.rutgers.edu.
"Positive Academic Leadership" served as the second of the Fall 2020 Virtual Topics in Academic Leadership Seminars. To view and register for upcoming seminars in this event series, please visit: https://ol.rutgers.edu/2020/08/24/announcing-fall-2020-virtual-topics-in-academic-leadership-seminars/.