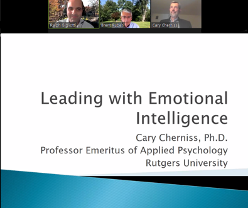 On Wednesday, September 30, the Center for Organizational Leadership hosted the live Zoom event entitled, "Leading with Emotional Intelligence." Seventy-six attendees from throughout the university listened to a presentation and engaged with guest speaker, Cary Cherniss, PhD, Professor Emeritus of Applied Psychology at Rutgers and co-chair of the Consortium for Research on Emotional Intelligence in Organizations (CREIO).
In the midst of Covid-19 and on the heels of the first presidential debate, Dr. Cherniss emphasized how "these are really critical times" to look at the relationship between emotional intelligence (EI) and effective leadership. He shared multiple research studies that demonstrated the importance of EI for employee retention and performance. However, Dr. Cherniss differentiated leadership success with effectiveness, noting how although we may see those who are perceived to have lower EI receive promotions, this does not necessarily translate into leadership effectiveness that benefits the organization.
Dr. Cherniss recommended multiple strategies for utilizing EI as an effective academic leader including monitoring the emotional climate of your team and managing your emotions through reframing the situation. One participant asked how to enact these strategies in a remote work environment to which Dr. Cherniss and fellow participants collectively shared tips for ensuring the well-being of your team and its individual members.
For more information about Leading with Feeling, a newly published book written by Cary Cherniss and Cornelia W. Roche, click here. The recorded video and materials can be found on the Academic Leadership Hub, a Canvas course site made available to our community members. If you are unable to access the Hub, please contact us at center@ol.rutgers.edu.
"Leading with Emotional Intelligence" served as the first of the Fall 2020 Virtual Topics in Academic Leadership Seminars. To view and register for upcoming seminars in this event series, please visit: https://ol.rutgers.edu/2020/08/24/announcing-fall-2020-virtual-topics-in-academic-leadership-seminars/.